Anita Shepherd, Antonio Castellano Albors, Astley Hastings, School of Biological Sciences, University of Aberdeen. 5th November 2023.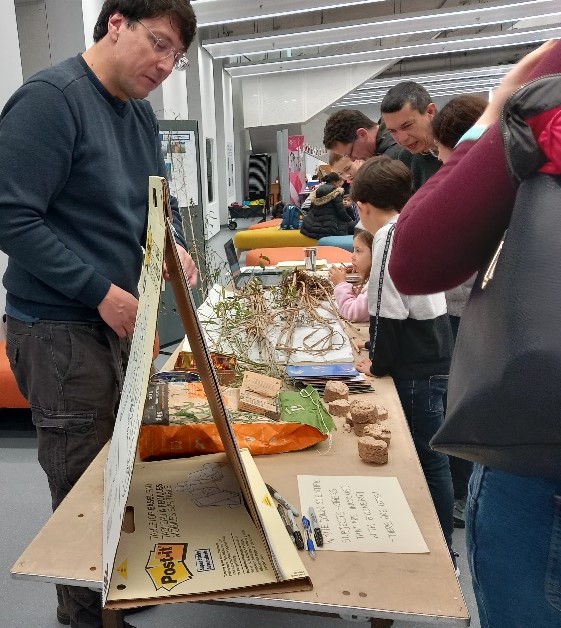 Techfest annually holds a family STEM festival at the University of Aberdeen. This year Aberdeen's biomass crops team from Biological Sciences hosted a stand showing miscanthus and coppiced willow connected with our Perennial Biomass Crops for GHG Reduction Project (PBC4GGR, funded by UKRI). Techfest estimated 400 attendees, in fact over 640 members of the public attended, pretty much all of whom went away with knowledge of biomass crops and products they can produce, such as Terravesta biomass boiler pellets and barbeque and solid fuel briquettes. In the process from seed to product, carbon is being captured from the atmosphere to crop and into the soil, to make it a carbon neutral or possibly a carbon negative process, that investigation is the aim of our project.
Children produced drawings, and enjoyed putting photo tiles in order of the biomass process from plant seed to power or heat, and suggested academic subjects involved with bioenergy.
Many people thought initially that miscanthus was bamboo, only one member of the public instantly recognized it as miscanthus, she was from Ireland where it grows quite extensively. We had interest from several growers local to Aberdeen who wondered if they could grow coppiced willow, and a grower who mentioned the biomass plant at Banchory and the coppiced willow growing around the town. Parents wanted to know where they could buy the barbeque and solid heating briquettes to be more sustainable, and were asking how hot it burns and for how long compared to wood or coke. We were impressed by the public's genuine interest to use sustainable carbon-neutral heating products.